The rolled chicken tacos from Taco Bell are great but unfortunately, they keep taking them off the menu. That is okay because here I have a copycat recipe for the rolled chicken tacos from Taco Bell. Rolled chicken tacos are corn tortillas rolled up with Mexican shredded chicken and then fried. Really they are just taquitos with a different name. At Taco Bell these rolled tacos are served with your choice of sauce such as nacho cheese, spicy ranch, or guacamole. I really enjoy these with nacho cheese.  The chicken in this recipe is prepared in the crock pot and we are making our own homemade chicken taco seasoning. You can use either boneless chicken thighs or chicken breasts. The chicken is added to the slow cooker with and taco seasoning and then shredded for use in the tacos. The tacos are rolled and then baked in the oven.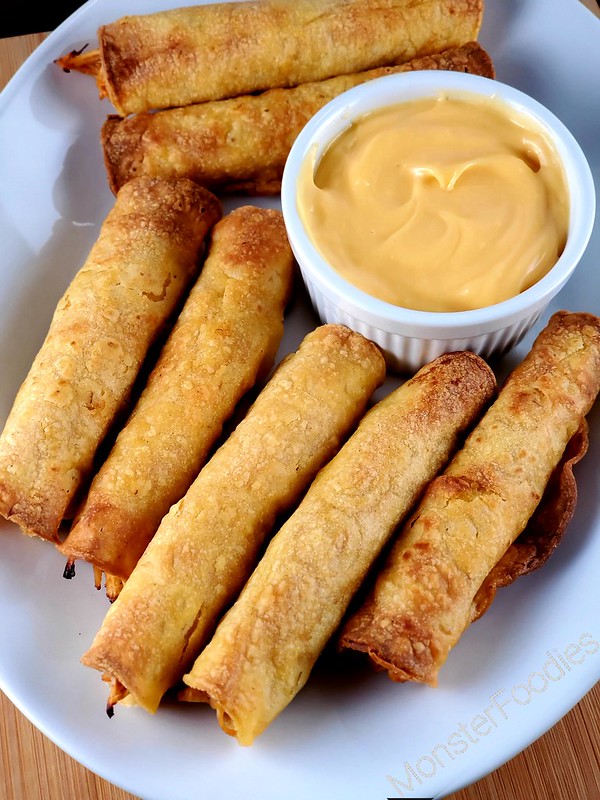 Print Recipe
Taco Bell Rolled Chicken Tacos
Copycat recipe for the rolled chicken tacos from Taco Bell.
Ingredients
3

boneless skinless chicken breasts

1

jar salsa

12

corn tortillas

2

tablespoons

oil

Warmed nacho cheese sauce
Taco seasoning-
1

teaspoon

chili powder

1

teaspoon

coriander powder

1

teaspoon

paprika

1

teaspoon

salt

1/2

teaspoon

garlic powder

1/2

teaspoon

onion powder

1/2

teaspoon

cumin powder

1/2

teaspoon

black pepper powder

1/2

teaspoon

oregano
Instructions
In a small bowl mix together all of the ingredients for the taco seasoning. In a slow cooker add the chicken breasts, salsa and taco seasoning. Cook on low for 4 hours. Shred the chicken using two forks.

Preheat the oven to 450 degrees Warm the corn tortillas in the microwave or in a skillet according to package directions.

Place tortillas one at a time on a cutting board. Place a couple tablespoons of the chicken down the center of the tortilla. Roll up tightly and place onto a greased baking sheet. Repeat with remaining tortillas.

Brush each taquito liberally with vegetable oil. Bake for 10 minutes or until the tops are lightly toasted. Serve with warmed nacho cheese sauce.