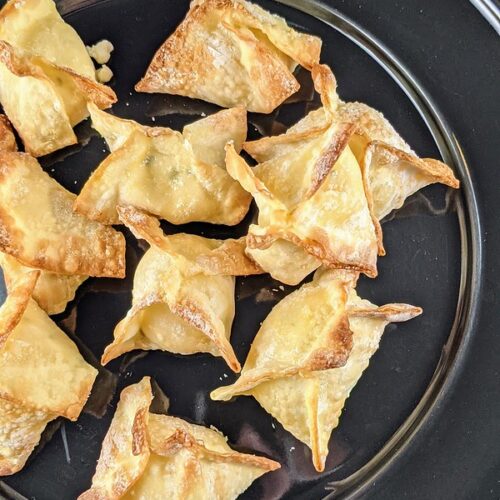 Print Recipe
Air Fryer Cream Cheese Rangoons
Rangoons cooked in the air fryer.
Add cream cheese, soy sauce, white pepper, garlic powder, salt, sugar, and minced green onion to a bowl. Mix until creamy.

Place a wonton wrapper on a plate or bowl. Put about 1 tbsp of cream cheese mixture to the middle of the wrapper. Dip your finger into the beaten egg and saturate the edges of the wonton wrapper. Bring up each corner of the wrapper and pinch into a star shape, sealing completely.

Preheat air fryer to 350 degrees Spray air fryer racks or cooking unit bowl with nonstick spray. Place finished wontons onto racks or into the cooking bowl without touching. Lightly use nonstick spray to coat the tops of the wontons.

Air fry for approximately 8 minutes, or until golden brown and bubbly.

Let cool for about 10 minutes and serve.