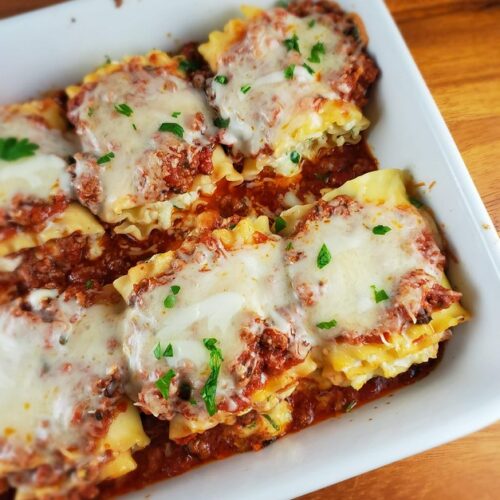 Print Recipe
Meat Lasagna Roll Ups
Lasagna roll ups with meat sauce.
Sauce-
2

teaspoons

olive oil

1

pound

ground beef

1

teaspoon

minced garlic

24

ounce

jar marinara sauce

Salt and pepper

to taste
Preheat the oven to 375 degrees Coat a 9x13 inch baking dish with cooking spray.

Heat 2 teaspoons of oil in a large skillet over medium-high heat. Add the ground beef and cook while breaking up into chunks with a spatula until browned. Season with salt and pepper. Add garlic and cook for 30 seconds. Pour marinara sauce into the pan and being to a simmer. Simmer for 5 minutes.

In a large bowl combine all of the cheese mixture ingredients. Stir until smooth.

Spread ½ cup of the sauce onto the bottom of the prepared baking dish. Lay the lasagna noodles on a flat surface. Spread a layer of the ricotta over each noodle. Reserve 1 cup of the meat sauce for topping the rolled up noodles in the baking dish. Spread the remaining meat sauce over the ricotta mixture on each noodle.

Roll up each noodle and then arrange them in a baking dish. Spoon the reserved sauce over the top of the rolled up noodles and sprinkle 1 ½ cups of mozzarella cheese over the noodles.

Bake covered for 20 minutes, then bake uncovered for 10 minutes or until the cheese has melted and starting to brown. Sprinkle with fresh parsley and serve.