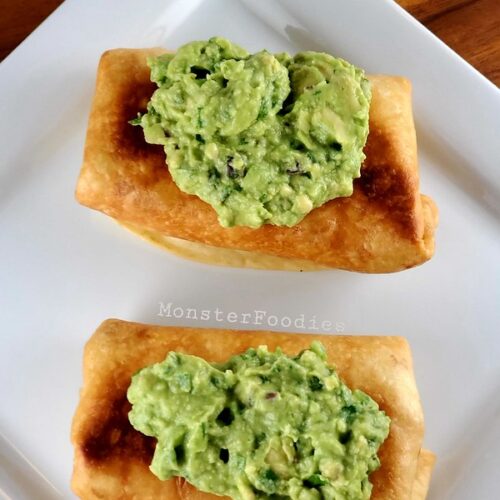 Print Recipe
Carnitas Chimichangas
Chimichangas with carnitas
Place all of the ingredients for the carnitas into the bottom of a slow cooker. Cover and cooked on low for 8 hours. Remove the pork from the crock pot and shred using two forks. Return the shredded meat to the slow cooker and mix with the juices.

Using a slotty spoon or tongs, add some of the carnitas meat to the center of a flour tortilla leaving about a 2 ½ inch border around the edge. Top with some pinto beans and shredded cheese. Fold in the sides and fold the bottom side up and roll to wrap. Fasten the ends with toothpicks.

Fill a pot with about 1 inch of canola oil and heat to medium-high heat. Add two filled tortillas and fry until golden brown on the bottom on the bottom. Using metal tongs carefully flip over and cook until golden brown on the other side. Drain on a plate lined with paper towels. Remove the toothpicks. Repeat with remaining tortillas.

Serve right away with optional toppings of your choice.