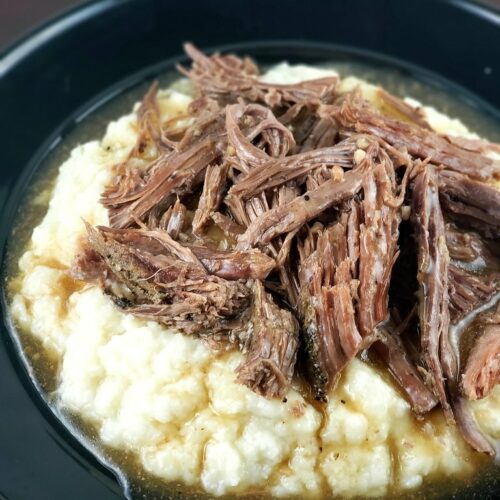 Print Recipe
Beef Roast with Mashed Cauliflower
This healthy and delicious beef roast is cooked in the slow cooker and then topped with mashed cauliflower.
Mix together black pepper, salt, onion powder, garlic powder, and dried oregano in a small spice bowl. Rub the beef roast with the prepared spice mixture until thoroughly coated.

Place the beef roast in a crock pot or slow cooker. Add beef broth and mix in the minced garlic. Place 1 tbsp of butter on top of the beef roast. Cover and cook on low for approximately 8 hours or until cooked to your liking. Shred the beef once finished cooking and place back into the crock pot on the warm setting.

Once beef roast is cooked, scoop out the liquid in the crock pot and put into a medium sized saucepan. Bring to a slow boil. Dissolve cornstarch in about a ½ cup of COLD water. Add to saucepan and whisk until it starts to thicken, then bring the gravy down to a simmer.

Add frozen cauliflower to a deep skillet with remaining 2 tbsp of butter. Sautee on medium heat, until cauliflower softens. Add approximately 2-3 cups of water, until it stands just above the cauliflower in the skilled. Cover and boil for about 15 minutes.

Using a ladle, scoop out as much water from the cauliflower that you can, reserving approximately ½ a cup in a bowl. Put cauliflower into a large mixing bowl and use a hand mixer or emulsifier to mix cauliflower until mashed and smooth, adding in the reserved liquid from the cauliflower pot until desired consistency is met.

Serve shredded beef over the mashed cauliflower, followed by a topping of gravy.