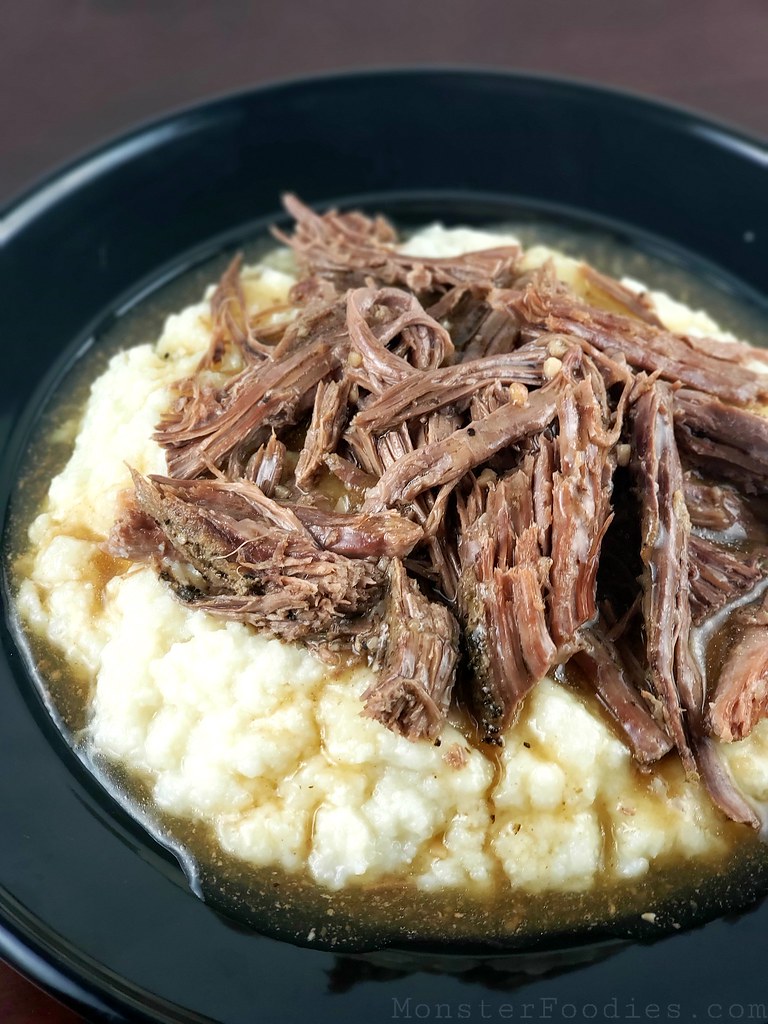 Our family was skeptical, to say the least, about replacing our beloved mashed potatoes with mashed cauliflower for this recipe. The recipe, however, did not disappoint. The cauliflower actually added a nutty, deep flavor to the meal that complimented the beef and gravy without compromising the texture of mashed potatoes. After a bit of research pertaining to mashed cauliflower, the decision to use frozen cauliflower rice was easy—it saves time and does not seem to affect the taste or texture when mashed. Also, by adding the water reserved from boiling the cauliflower to add moisture to the mashed cauliflower, you can preserve the taste of the cauliflower without adding extra calories.  Even though the recipe is a bit extensive, it was well worth the effort. The added bonus is that it was low carb and a healthy alternative to our normal beef roast and potatoes. Our toddler, as always, really enjoyed the beef portion of the meal and our 8-month old loved the mashed cauliflower. This dinner was a real hit in our household, and we plan on making it again for special occasions (yes, it is THAT good). From the Monster Foodies to you—love what you eat and enjoy!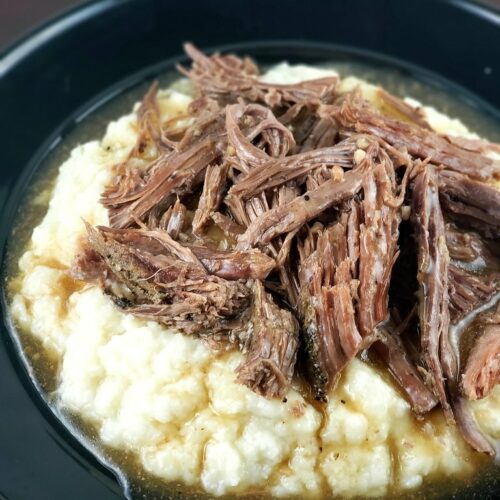 Beef Roast with Mashed Cauliflower
This healthy and delicious beef roast is cooked in the slow cooker and then topped with mashed cauliflower.
Ingredients  
2.5

lb

beef roast

2

cups

beef broth

1

tbsp

black pepper

1

tsp

salt

1

tbsp

onion powder

1

tbsp

garlic powder

2

cloves

of minced garlic

½

tbsp

dried oregano

3

tbsp

butter

¼

cup

corn starch

2

bags of frozen riced cauliflower

3 ½

cups

water
Instructions 
Mix together black pepper, salt, onion powder, garlic powder, and dried oregano in a small spice bowl. Rub the beef roast with the prepared spice mixture until thoroughly coated.

Place the beef roast in a crock pot or slow cooker. Add beef broth and mix in the minced garlic. Place 1 tbsp of butter on top of the beef roast. Cover and cook on low for approximately 8 hours or until cooked to your liking. Shred the beef once finished cooking and place back into the crock pot on the warm setting.

Once beef roast is cooked, scoop out the liquid in the crock pot and put into a medium sized saucepan. Bring to a slow boil. Dissolve cornstarch in about a ½ cup of COLD water. Add to saucepan and whisk until it starts to thicken, then bring the gravy down to a simmer.

Add frozen cauliflower to a deep skillet with remaining 2 tbsp of butter. Sautee on medium heat, until cauliflower softens. Add approximately 2-3 cups of water, until it stands just above the cauliflower in the skilled. Cover and boil for about 15 minutes.

Using a ladle, scoop out as much water from the cauliflower that you can, reserving approximately ½ a cup in a bowl. Put cauliflower into a large mixing bowl and use a hand mixer or emulsifier to mix cauliflower until mashed and smooth, adding in the reserved liquid from the cauliflower pot until desired consistency is met.

Serve shredded beef over the mashed cauliflower, followed by a topping of gravy.