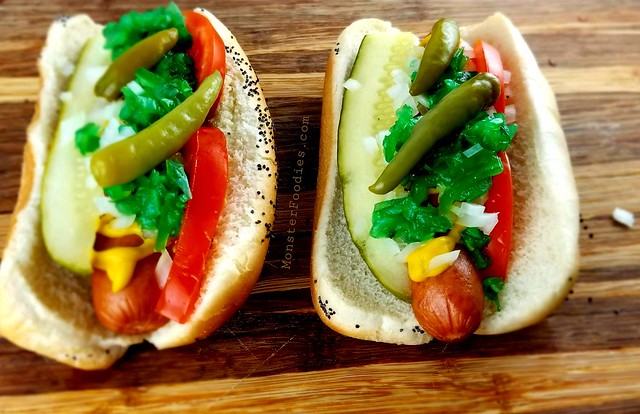 If you have ever been to Chicago you certainly must have tried the Chicago-Style Hot Dog, and perhaps you thought it was so amazing that you wanted to know how to make your own at home. Making these hot dogs it turns out is very simple. For those of you not familiar with the Chicago dog it is an all-beef hot dog on a poppy seed bun topped with mustard, relish, tomato, dill pickle spears, diced onion, sport peppers and celery salt. You can either steam the hot dogs, cook them in water or grill them. When you grill the hot dogs it is referred to as a char-dog. Sport peppers are a little spicy and may be difficult to find depending on your location but you could probably purchase a kit off of amazon or substitute with pepperoncini or banana peppers. This recipe just makes 1 serving but you can easily adjust it to make as many Chicago dogs as you want. Just remember, don't put ketchup on a Chicago-style hot dog! ?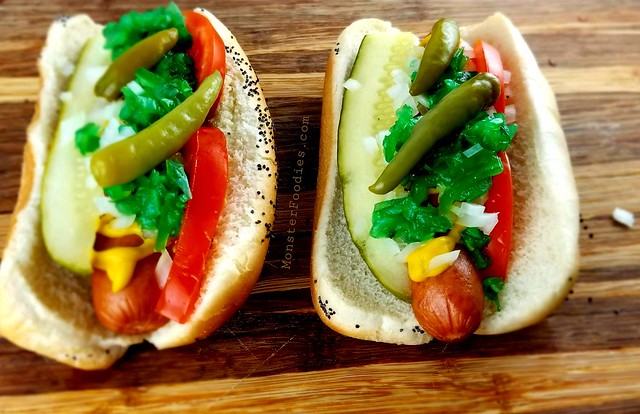 How to Make a Chicago Style Hot Dog
Chicago-style hot dogs are loaded with tomato, onion, pickle spears, relish, mustard, sport peppers, and celery salt.
Ingredients  
1

all-beef hot dog

1

poppyseed hot dog bun

1

teaspoon

yellow mustard

1

tablespoon

sweet green pickle relish

1

tablespoon

chopped onion

4 to

mato wedges

1

dill pickle spear

2

sport peppers

1

dash celery salt
Instructions 
Bring a pot of water to a boil. Reduce heat to low and place the hot dog in water. Cook for 5 minutes or until heated through. At this point you can place a steamer basket into the pot and steam the hot dog bun for 2 minutes or until warm.

Place the hot dog into the steamed bun. Add toppings in this order: yellow mustard, sweet pickle relish, onion, tomato wedges, dill pickle spears, sport peppers, and celery salt. The tomato should be placed between the hot dog and the top of the bun. The dill pickle spear should be placed between the hot dog and the bottom of the bun.