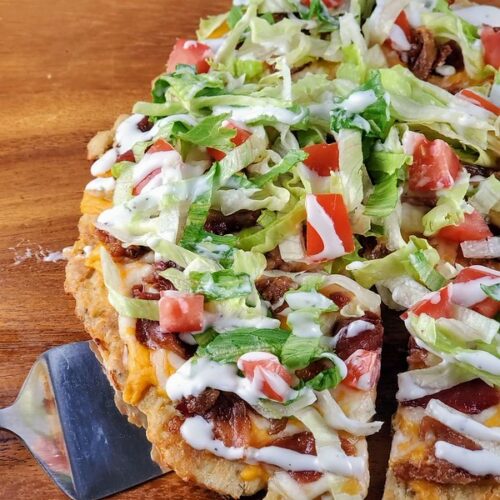 Print Recipe
Keto Ground Chicken Pizza Crust
A healthy keto ground chicken pizza crust
Crust:
1

lb

ground chicken

1

egg

¼

cup

shredded mozzarella

¼

cup

shredded parmesan

1

tsp

oregano

1

tsp

garlic powder

1

tsp

onion powder

1

tsp

pepper

1

tsp

salt
Preheat oven to 400 degrees Grease a large baking sheet or pizza pan with cooking spray.

In a large mixing bowl, combine all ingredients and mix well.

Put the mixture onto the baking sheet and evenly spread it out, so it is approximately ¼ inch thick. Use an additional baking sheet if there is too much mixture for the pan.

Place in preheated oven and bake for approximately 20-25 minutes, then remove from oven and carefully flip the crust. Replace in oven and bake for an additional 20-25 minutes and remove.

Turn down the oven temperature to 350 degrees Add both types of cheese and cooked bacon to the crust, as evenly as possible. Return to the oven for about 10 minutes, until cheese is melted.

Remove from the oven and let cook for about 10-15 minutes. Add shredded lettuce and chopped tomatoes to the pizza. Drizzle with ranch dressing of your choice.