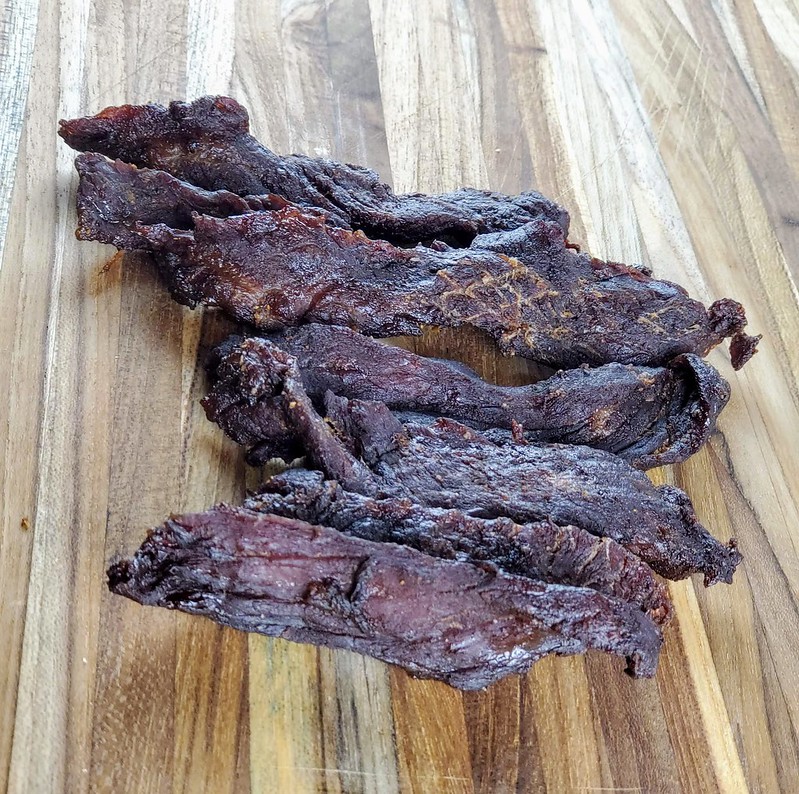 My family loves beef jerky, however, we go through it so fast that we would end up spending a fortune buying it premade at the store. I was super excited to find out that you can make your own beef jerky in the air fryer following this recipe for a fraction of the cost. I decided to come up with my own marinade and have included it, so you have a recipe to start with and tweak to your own liking. I usually skip the red pepper flakes because my children are not fans of spicy foods. The marinade is very flavorful, and I love that the Worcestershire sauce flavor is present, but not overpowering. I recommend finding a lean cut of steak or beef; usually I choose a bottom round option that is lean and affordable. Also, cutting the meat on a bias (about a 45-degree angle) helps to make sure the cuts are even. If you find that cutting steak evenly is difficult, you can try to freeze it for an hour before you cut it so that it is stiff and not as soft. Air fryer beef jerky is an easy, simple, and affordable recipe that competes with premade store-bought options. . From the Monster Foodies to you—love what you eat and enjoy!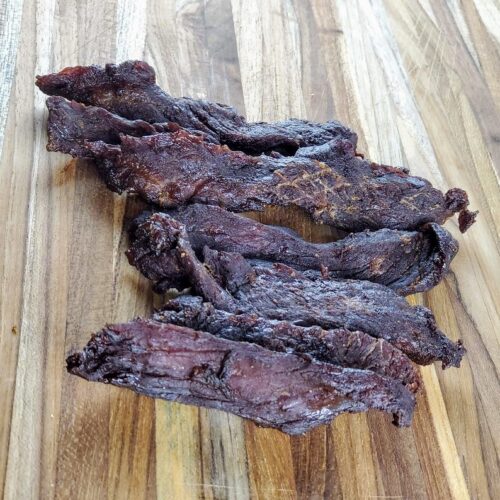 Beef Jerky Recipe Air Fryer
Delicious beef jerky cooked in the air fryer!
Ingredients  
1-2

lb

lean steak or beef roast

1

cup

soy sauce

2

tbsp

Worcestershire sauce

¼

cup

brown sugar

1

tbsp

minced garlic

1

tsp

garlic powder

1

tsp

onion powder

1

tsp

black pepper

1

tsp

red pepper flakes

optional
Instructions 
Trim fat from steak or beef. Slice steak or beef roast in strips that are about ¼ of an inch thick and about 3-6 inches long.

Add sliced beef or steak to the remaining ingredients to a gallon freezer bag or airtight container and mix well. Marinate in the refrigerator for at least 1 hour (preferably overnight).

When ready, preheat air fryer to 180 degrees Place marinated meat strips on wire racks or bottom of the air fryer cooking unit so they are not overlapping. Air fryer for about 1.5-2 hours, until you achieve the consistency you want. Less times makes for a more tender beef jerky and long will make the jerky more dry and chewy.