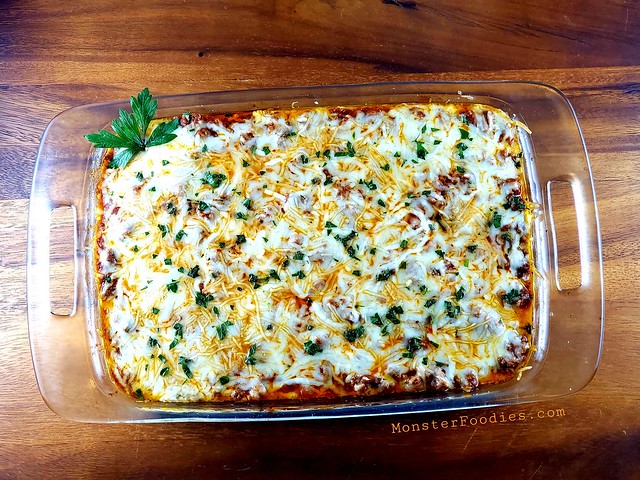 I came up with the recipe for Spaghetti Squash Lasagna Casserole as a healthier, low-carb/Keto alternative to regular lasagna. It soon became a household favorite and is made regularly. We prefer the taste of sweet marinara, but any spaghetti sauce or marinara would work. This casserole is not dry, between the ricotta and sauce. It is full of flavor and the tastes blend together to make an exceptional meal. Spaghetti squash has a unique texture, that, in my opinion, is not very similar to regular pasta. It adds a different spin on traditional lasagna, without competing with it. I prefer to bake my spaghetti squash whole, but some prefer to cut it in half; either way is fine. This recipe does take some time to prepare, so give yourself a good 2 hours to prepare it between the baking of the squash, casserole preparation, and final baking. I also like to let it sit for about 15-20 minutes so it can cool and somewhat solidify so it is easily served as pieces. From the Monster Foodies to you—love what you eat and enjoy!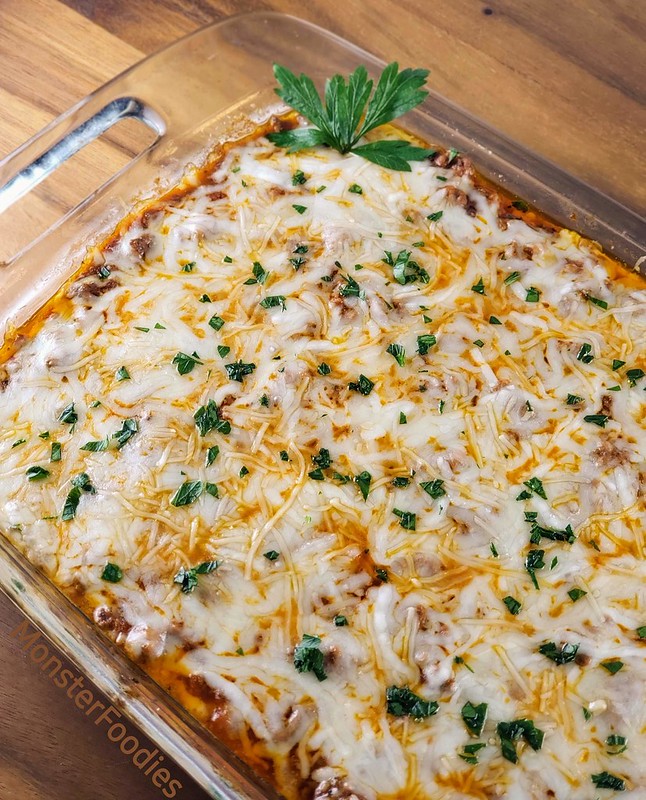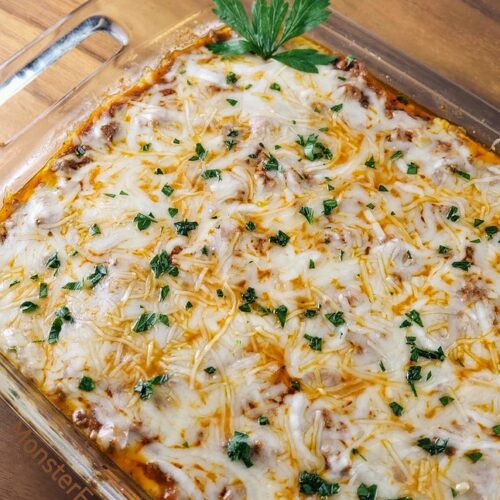 Spaghetti Squash Lasagna Casserole
using spaghetti squash is a healthy and delicious alternative to pasta in this casserole.
Ingredients  
1

large spaghetti squash

1

lb

ground beef

24

oz

jar of sweet marinara

or spaghetti sauce of choice

8

oz

shredded mozzarella cheese

4

oz

shredded parmesan cheese

8

oz

ricotta cheese

Fresh parsley for garnish

½

tsp

salt

½

tsp

pepper
Instructions 
Preheat the oven to 375 degrees Puncture the spaghetti squash about 10 times with a small knife and place on a baking sheet. Bake for approximately 60-70 minutes.

Cut the baked spaghetti squash in half, lengthwise. Gut the seeds and fibers out of the squash using a spoon. Use a fork to scrape the sides of the spaghetti squash to the "noodles" separate from the sides and place into a large mixing bowl. Once all the spaghetti squash is in the bowl, add ricotta cheese, about ¼ cup of the mozzarella cheese, salt, and pepper. Stir until combined and the ricotta is evenly distributed.

Brown the ground beef stovetop, chopping it with a spatula until it is broken up into small pieces. Once fully cooked, add marinara or sauce to the meat and mix well.

Grease a 9x13 casserole dish and spoon about half of the spaghetti squash and ricotta mix into the bottom. Flatten as best you can. Using a deep spoon, slowly and evenly add about half of the marinara meat sauce to the top of the spaghetti squash layer, one scoop at a time. Sprinkle ¼ cup of mozzarella cheese evenly over the marinara meat sauce layer.

Repeat, starting with final layer of spaghetti squash and ricotta mixture (use the rest of it). Add the last of the meat sauce to the top, just as in the step before.

Mix the remaining ½ cup of mozzarella and parmesan cheese together. Evenly place the cheese on top of the sauce layer. Finish with a garnish of minced fresh parsley.

Place casserole in preheated oven at 350 degrees Bake for approximately 15-20 minutes, until cheese is melted and the casserole is heated throughout.

Cut and serve as you would a traditional lasagna after a cooling period of about 15-20 minutes.