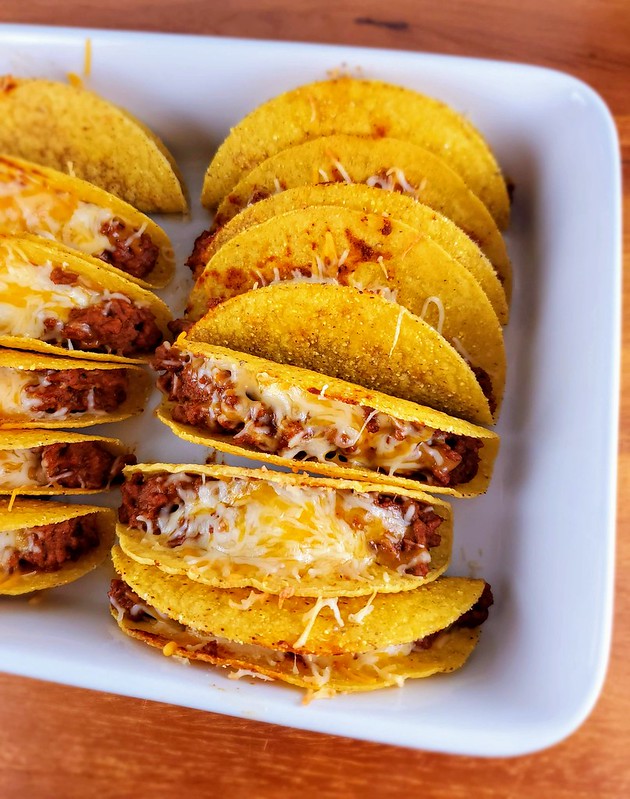 If you are in need of a recipe for the best oven baked tacos ever then you have come to the right place. Making tacos the traditional way by simply baking the shells and preparing the taco meat separately is great but when you fill the tacos shells and then baked them with the meat already inside, it is even better. For this dish we are making our own tacos seasoning that is delicious and chances are you already have all of the ingredients in your pantry, so there is no need for a trip to the store just for spices. You will simply prepare the taco meat on the stovetop and then mixing it with refried beans and tomato sauce. Then next step is to fill the taco shells with the taco meat mixture, place them into a baking dish and then top with tons of delicious Mexican cheese blend. The tacos will be ready in no time at all and you can serve them with your favorite toppings like salsa, sour cream, shredded lettuce, and guacamole. You will see after trying this recipe that this is truly the best way to make tacos.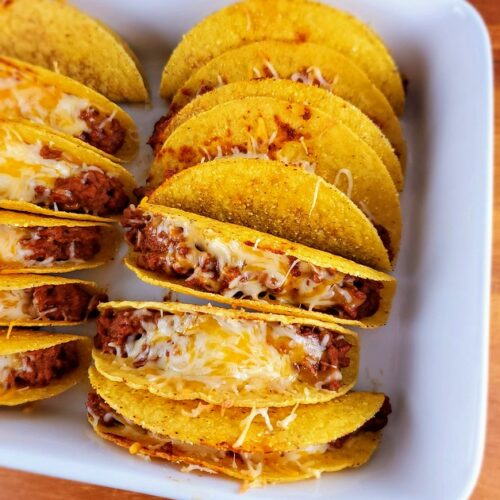 Oven Baked Tacos
Tacos are even more delicious when they are baked right in the oven.
Ingredients  
Taco seasoning-

4

tablespoons

chili powder

2

tablespoons

cumin

1

tablespoon

paprika

1

tablespoon

salt

1

teaspoon

garlic powder

1

teaspoon

dried onion

1

teaspoon

oregano

teaspoon

black pepper

2

lbs

ground beef

1

(8 ounccan tomato sauce

1

(16 ounce) can refried beans

1

(8 ounce) bag shredded Mexican cheese blend

18

taco shells
Instructions 
Combine all of the taco seasoning ingredients in a small bowl and mix well. Set aside.

Heat a large skillet to medium-high heat. Add the ground beef and cook while breaking up into chunks with a spoon or spatula until browned. Drain any excess grease. Add taco seasoning, refried beans, and tomato sauce. Cook and stir to combine all of the ingredients until well combined and the ground beef is fully cooked.

Spoon the meat mixture into the taco shells and place into a 9x13 inch baking dish. Top the filled tacos with Mexican cheese blend.

Place into the oven and bake for 10 minutes or until the cheese has melted.