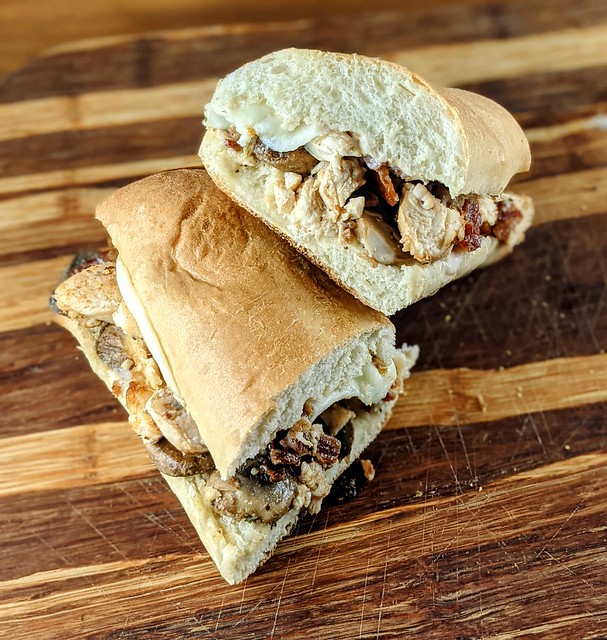 I worked several years at a Quiznos while attending college and I find myself sometimes craving certain subs. Unfortunately, Quiznos are hard to find these days, so I have had to recreate them in my own kitchen. The Chicken Carbonara Sub was very popular, undoubtedly because it is absolutely delicious, so it wasn't long before I realized I needed to come up with my own copycat recipe. It is pretty darn close if I may say so myself. The recipe is rather straightforward; most of the prep time is in baking and cutting up the chicken and bacon. You can make your own alfredo sauce, but for time and the sake of being simple, I like to buy mine jarred (any brand/flavor will work). Chicken Carbonara Subs are super savory and filling; the combination of warm, soft, and flavorful ingredients on a toasted sub roll is amazing. From the Monster Foodies to you—love what you eat and enjoy!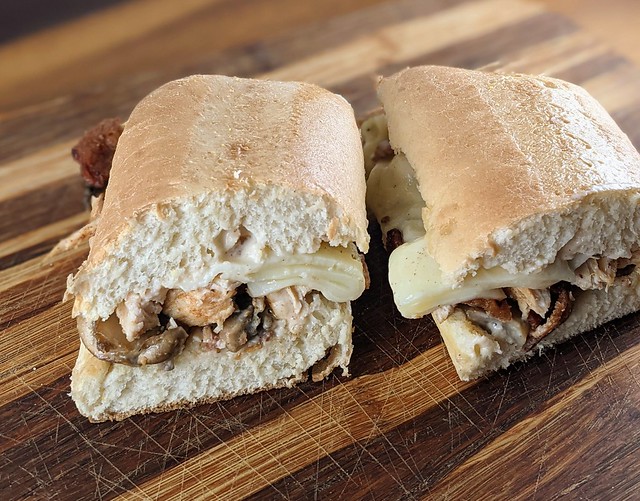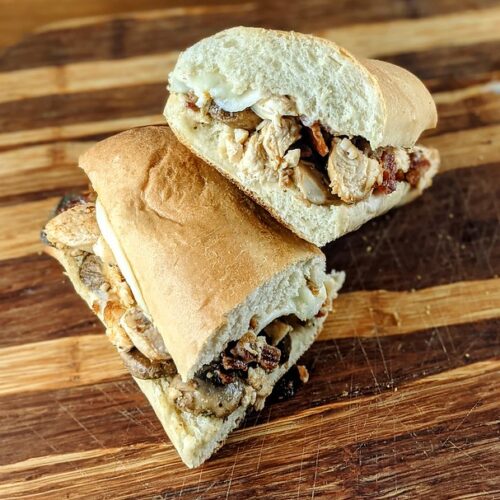 Quiznos Chicken Carbonara
Chicken Carbonara Sub from Quiznos
Ingredients  
6

sub rolls

15

oz

jarred Alfredo Sauce

12

slices

mozzarella cheese

1

lb

chicken

cubed

1

lb

bacon

prepared and crumbled

8

oz

fresh mini bella mushrooms

sliced

2

tbsp

olive oil

½

tbsp

garlic powder

½

tbsp

onion powder

1

tsp

black pepper

1

tsp

salt

2

tbsp

dried oregano
Instructions 
Preheat oven to 300 degrees If needed, slice sub rolls horizontally through the middle.

In a medium bowl, combine olive oil, mushrooms, garlic powder, onion powder, black pepper, and salt. Gently mix until mushrooms are evenly coated. Place mushrooms into a medium size skilled and set at medium-high heat. Sautee for approximately 5 minutes, until mushrooms are tender. Remove from heat, place into a bowl, and put to the side.

Mix the cooked chicken and crumbled bacon into a large bowl. Stir until it is well combined.

Place the sub rolls onto a baking sheet (you will probably need two), open with the inside facing upwards. Using a spoon, scoop alfredo sauce and drizzle onto both top and bottom sides of the open sub roll. On the bottom part of the sub roll, place the sauteed mushrooms so that they are covering the bread, then add the chicken and bacon mixture so that it evenly covers the mushrooms. On the top half of the opened bread, place two pieces of sliced mozzarella (it is fine if some of it overlaps onto the chicken and bacon). I like to add an extra drizzle of alfredo sauce on the chicken and bacon side of the sandwich, to add some more flavor and moisture. Lastly, sprinkle some dried oregano on the top and bottom halves.

Bake in the oven for about 10 minutes, or until the sub rolls have achieved your desired hardness on the outside. Close the subs up, cut in half, and enjoy!